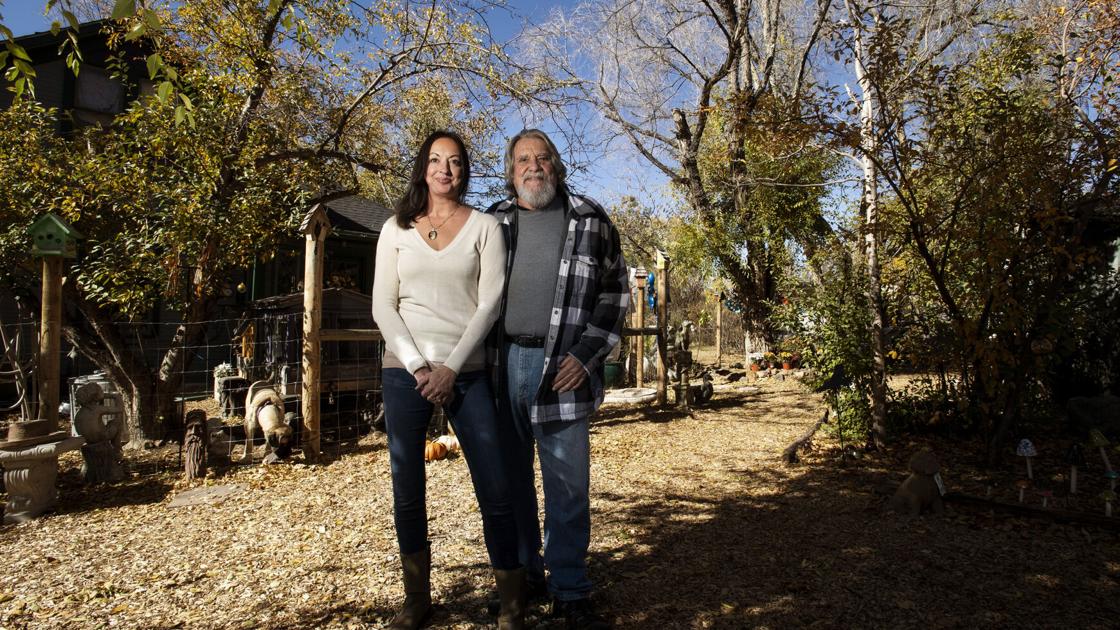 garden center has a long history in Colorado Springs | Way of life
You might pass by the long-standing birdseed and gardening center without even knowing it's there.
An old truck with a sign announcing pumpkins sits in front of a private fence, veiling the property from speeding traffic on Palmer Park Boulevard. But once you get through the front gate, it's like you've been transported inside a real fall snow globe.
"I can tell when it's people's first time – they're looking everywhere," said owner Ron Perry. "I have people here who live in six or eight houses, and it's a surprise to them.
Fall is a particularly dazzling time to visit the store, known primarily for welcoming bird lovers but also those who appreciate whimsical yard art, fountains, statues, and antiques. The trees are dripping with leaves adorned with jewels. Bright mothers fill the planters along the aisles.
Calling the birds: don't let winter put a stop to birding
Over the past 25 October, This Place is for the Birds has turned into a pumpkin patch thanks to the folks at Hanagan Farms in Swink depositing thousands of their prized possessions. Perry turns around and sells them for $ 5.55 – six dollars with tax – cheaper than many grocery stores or chain stores.
"I've always tried to keep things reasonably priced for families," said Perry, who turns 80 on Halloween. "In a lot of places you buy by the pound, and when you have two or three kids, it's $ 85 for pumpkins."
Scott Dikun is a happy customer, as he and his wife are the new owners of three perfectly trained Orange Orbs.
"I hate buying them in (grocery stores)," Dikun said. "Buying a pumpkin is an experience. Taking them out of the trash takes it all out."
People can come for the pumpkins and the barrels of sunflower chips, but they stay for the story. Perry and his daughter Sarah, who helps run the store, love to bring out the old black and white photos of the property in the early 20th century. The farm where Ron lives today and his chicken coops, one of which is now the store, was really in the middle of nowhere. The closest neighbor was the Cragmor Sanatorium 3 miles to the north, which eventually became the University of Colorado at Colorado Springs.
Property records reveal the backbone of a juicy story. A Mr. Wood first bought the land and built the farm in 1909. He passed through seven owners until 1935, when Katie Veen, a Frenchwoman, staked her claim on what was about a dozen acres in that time, and lived there for the next 55 years.
"Two cars a week went by when she bought it," Ron said. "It's gone from 125 cars a year to 5.5 million and that was 10 years ago."
In 1990, Veen put the farm up for sale. She was 90 years old and taking care of the farm had become too difficult.
Bald eagle spotted at Colorado Springs area reservoir; other water points provide opportunities for bird watching
Ron saw it was up for grabs and landed a reunion with her, eventually becoming the last caretaker of the property, which now spans almost 2 acres.
Sarah was 10 when she met Veen, and the older woman was leading her around the property, showing her what she had planted.
"My favorite book at the time was 'The Secret Garden' and that's what this place looked like," Sarah said. "A magical secret garden that was all mine."
After Ron helped Veen move into a retirement community, the two developed a friendship that lasted until his death in 1999.
"She was an interesting woman," he said. "I'm lucky to have met her. After she passed away her lawyer gave me a letter she had typed and she said, 'Ron, you are the best friend I have. never had.' It suffocated me. "
Who was Veen?
The 5-foot-tall woman arrived in the United States in 1919 and worked as a nanny in New England for a few years before moving to New York and then Colorado. She has lived a hectic life. Ron has an old photo of her wearing the costume she wore in the 1927 silent western movie "The Cactus Kid", which was probably her first and last movie role.
Veen also worked on the B-17 Flying Fortress during WWII, and when the owner of a restored B-17 brought his plane to Colorado Springs for a visit, Ron took Veen and his children to see him. She showed up with her Rosie the Riveter button, he said, and was upset when the owner of the plane tried to charge her a few dollars for the tour.
"She said, 'You have a lot of nerve to take me on this plane, because we kept a lot of them up for you during the war," he recalls.
Award-winning South Korean sculptor takes big step forward, moves family to Colorado Springs
Most importantly, Veen was a French teacher, who received her MA in 1939 from the University of Arkansas, an unusual feat for a woman at the time. She ended her decades-long career teaching a dozen years at Colorado Springs School before retiring at age 84.
She never married or had children.
Ron's turn
When Ron bought the property, he was in the music business, developing a range of dealerships for The Bobs, a San Francisco Bay Area a cappella group, and ISO, a New York dance troupe.
It wasn't until he reconnected with a friend outside of Colorado that the idea of ​​a bird-related business came to his mind. The friend made a good living building bird houses and selling them to chain bird food stores, which Ron found surprising, but a visit to the two national bird store chains in the town – Wild Birds Unlimited and Wild Bird Center – agreed with his friend.
"The whole time I was there (Wild Bird Unlimited) the cash register never stopped ringing," Ron said. "It was all birdseed, which is like groceries. People buy it and when it's gone, they buy more."
Following the Independent Road wowed him, and he pointed his van east to find farms where he could buy sunflower seeds and others. The store officially opened around 1996, when it began selling its formulated blends 35-40% less than chain stores.
"Of all the businesses I've had over the years or been involved in, I've never had one that had such nice people like this," Ron said. "It's really, really laid back. Something about the place has that kind of feeling. Most people who come here do."