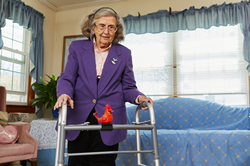 An animatronic bird created to bring joy and companionship to the elderly
Invented by 93-year-old Rita Melone, a senior citizen determined to improve her own experience with her walker, the Walker Squawker was designed to serve as a playful reminder to use her walker by providing the user with an interactive and personalized "sidekick". "

PAWTUCKET, RI (PRWEB)
September 28, 2022
Ageless Innovation LLC, a global company dedicated to reinventing the way we live and age together positively through the power of play, today announced the worldwide availability of the Walker Squawker: a cheerful, artfully designed animatronic bird joy, fun and companionship to seniors and their families. Designed to playfully perch on walking devices, this realistic bird aims to create a more positive relationship between seniors and their walkers. The highly-anticipated product has already been dubbed "a tool for caring for elderly loved ones by the TODAY Show and within USA Today; it's officially available for purchase at JoyForAll.com, Amazon.com, and select retailers.
Invented by 93-year-old Rita Melone, a senior citizen determined to improve her own experience with her walker, the Walker Squawker was designed to serve as a playful reminder to use her walker by providing the user with an interactive and personalized "sidekick". When placed on a walker, the Walker Squawker will sing and play songs as older loved ones walk along, ultimately bringing joy and fun through playful sounds, interactions and company. Featuring advanced technology that allows it to look, move and sound like the real thing, the Responsive Companion's goal is to inspire people to want to use their walkers by providing seniors and their families with animated animations. fun and pleasant interactions.
"After more than 90 years of walking without assistance, I often forgot to use my walker," said Rita Melone, inventor of the Walker Squawker. "Walkers can be so cumbersome and boring – I wanted to create a device that would make the experience more fun and enjoyable for me and my friends. I thought 'what could be better than having a cute little feathered friend to take the ride?' » Learn more about Rita here.
Ageless Innovation has worked tirelessly to provide enjoyable experiences for seniors and their families through unique product offerings, beginning with Joy for All Companion Pet Pups and Cats. The launch of the Walker Squawker will follow and comes at a key time when social isolation, loneliness and physical and cognitive decline among older people are at an all time high.
"Ageless Innovation is proud to design products based on the many contributions of seniors," said Ted Fischer, co-founder and CEO of Ageless Innovation. "When this incredibly smart and brave 93-year-old woman came to us with the idea of ​​the Walker Squawker, we couldn't pass up the opportunity to create a new product that would bring smiles and joy to Rita and her friends. We are honored to partner with Rita to bring her invention to life.
The birds feature a highly detailed, tactile fabric exterior, a wide range of authentic native songs and sounds, a motion sensor that recognizes and rewards walking, CHIRPBACK™ technology that allows the birds to respond to the sound of your voice, and a variety of other sensors to maximize realistic interactivity. Each product will also include a universal perch designed to fit most walking devices.
The Walker Squawker is available for purchase now at JoyForAll.com, BestBuy.com, and at select retailers in Fall 2022. The suggested retail price for the Walker Squawker is $64.99. The product is available in two styles – Cardinal and Blue Bird. For more information about Joy For All pets, visit https://joyforall.com/ and follow us on Facebook, TwitterInstagram and LinkedIn.
# # #
About Ageless Innovation

Ageless Innovation is a global company dedicated to developing fun and engaging products for seniors. Beginning with the award-winning Joy for All Companion Pets range, Ageless Innovation is focused on creating products that promote fun, joy and play while lowering the cost of care and creating meaningful connections for seniors, their families and caregivers. For more information, visit http://www.joyforall.com.
MEDIA CONTACT:

Litzky Public Relations: Marisa Papa; mailto:mpapa@litzkypr.com [mpapa@litzkypr.com __title__ null]; 973-647-5339
Share the article on social networks or by e-mail: