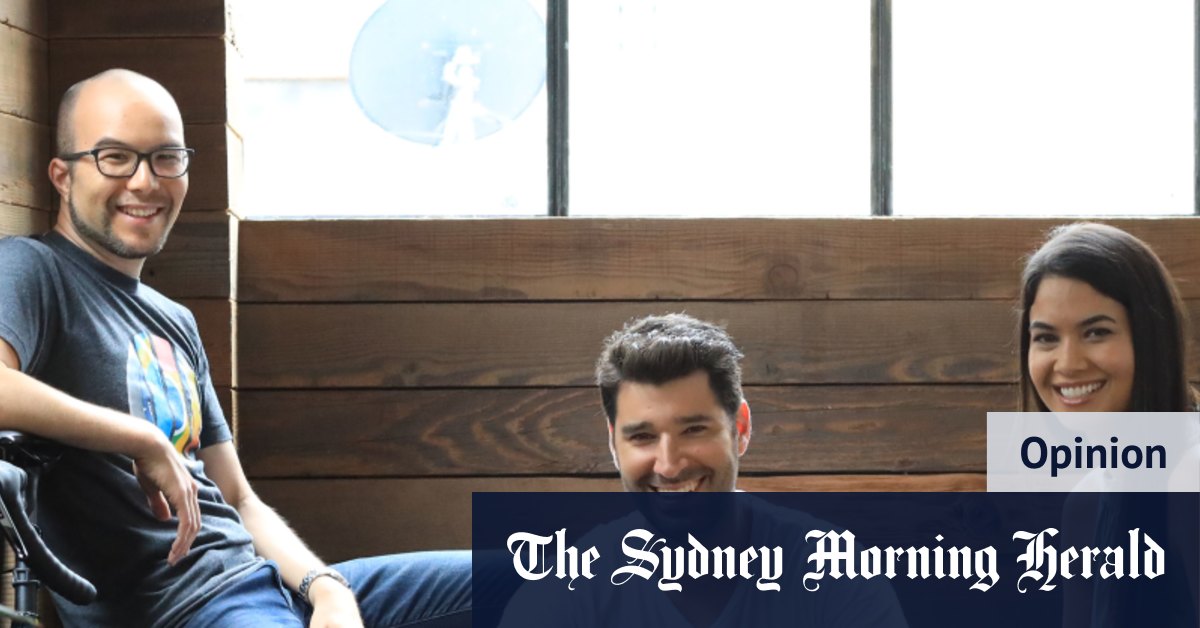 An uncomfortable reality is finally dawning on Australia's tech sector
Cliff Obrecht, the co-founder of Australia's most valuable and famous start-up, used an interview with this masthead last week to reassure staff about his company's future and financial situation after investors reduced their holdings in Canva by more than $20 billion. Journalists obsessed with his company's falling valuation "need more interesting things to write about," he said.
Obrecht isn't the only member of the tech sector feeling this, as punishing market conditions hit home, ending a decade of start-up boom abruptly. "In 2021 the media stories for start-ups were gushing and in 2022 it's dark and dark," Paul Bassat, one of the country's biggest start-up investors, recently tweeted. "It wasn't so good last year and it's certainly not so bad this year."
Countless glowing magazine covers, glowing articles about minor capital raises, and photo ops of two founders standing against an exposed brick wall testify to Bassat's former complaint. But while some privately complained about it, many in the start-up scene have grown accustomed to uncritical media coverage as the normal norm. Now, however, the market has turned sour and the tech industry is struggling to adapt.
Aside from a few compelling letters from investors, venture capitalists have every reason to act as if the recession is a problem for others. Until recently, capital was a commodity. To persuade start-ups to take their money, investors had to show that they weren't just bags of money, they were true believers. Consider perhaps Australia's largest venture capital firm, Blackbird Ventures, for example. Instead of a typical website, a visitor to their online property must "enter the world of Blackbird" by zooming through a flame-colored bird's eye and hovering over a series of kaleidoscopic shapes to learn that the fund supports an ambition so big that it is "generational".
Loading
In America, this kind of self-mythification has spawned a legion of critical pundits. For almost every entrepreneur peddling indecipherable self-help proverbs on Twitter, there's a skeptic. Most famously, New York University professor Scott Galloway rose to prominence after he blasted coworking company WeWork's claim that he would "raise the consciousness of the world".
In some cases, the technology-media relationship in the United States has become intensely bitter. After a series of stories about allegations of harassment, corporate mismanagement and his sex life, billionaire Elon Musk tweeted that "the media is a click-seeking machine disguised as a truth-seeking machine". Another start-up founder, Ryan Breslow, posted a series of tweets indirectly implying some form of collusion between the New York Times and a venture capital company when its company has been the subject of a critical history. The big names in venture capital regularly attack the media. Of course, there's a history of tension between media companies and the tech industry: Sites like Facebook, Google and eBay have taken billions that once went to print advertising. But the American experience points to a deeper present belief: that technology and start-ups are fundamentally good, so any reporting of unfavorable truths is therefore fundamentally bad.
Loading
This worldview is still rare in Australia, where glowing stories of tiny start-ups raising funds ⁠—or even hoping for ⁠—still predominate. Rather, Bassat and Obrecht's exhortation is to "ignore the noise" of the broader economy, which is good advice in a way. Startups are not day traders, trying to buy low and sell high. If a company has the potential to disrupt a huge industry and generate billions in revenue over the long term, it doesn't matter if it has to suffer a downturn along the way. In other words, Obrecht can't do anything to alter inflation or interest rates, so by Bassat's logic, Canva shouldn't focus on them. But that's not the point: how companies react to a new situation is what matters. Is marketing spend increasing or decreasing? Are they overstaffed? And while Canva, a profitable company with $1 billion in the bank and 70% annual revenue growth, can afford to dismiss a recent multi-billion dollar drop in its valuation as "noise," it's the exception that confirms the rule.