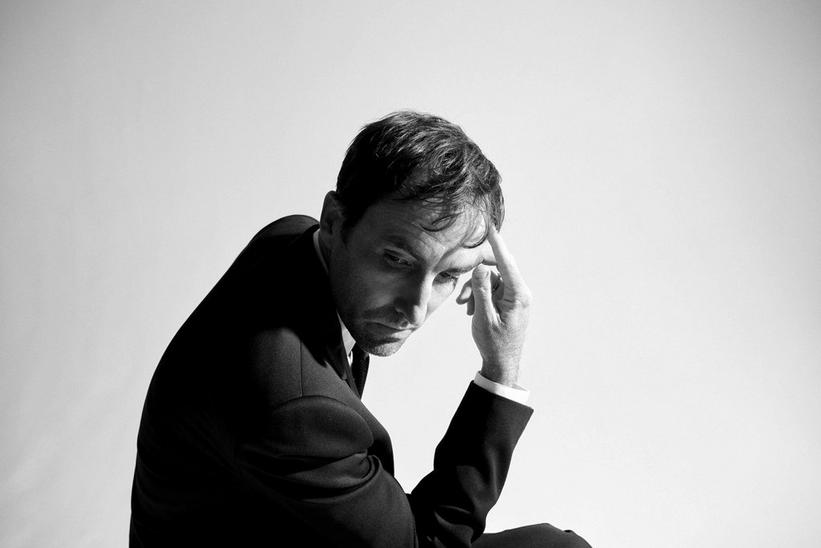 Andrew Bird reveals inside 'internal issues'
Prolific might be an understatement when it comes to Andre Bird's work across a myriad of mediums. In addition to his own work, the GRAMMY-nominated singer-songwriter is a renowned whistler, and was a member of Squirrel Nut Zippers for several years. Bird's 1996 debut album, hair music, was followed by around 16 solo records (some with/like Bowl of Fire), not to mention a variety of collaborations. And let's not forget live albums (six), EPs (10), and film and TV projects, including playing on the FX drama"Fargo."
So it's perhaps no surprise that Bird managed to follow up with an album – the somewhat winking title My best work to date — with a record that could be even better. Internal issuesreleased June 3, features 11 often poignant and quietly passionate songs produced by Mike Viola (who has also worked with Mandy Moore, Panic! At the disco and Jenny Lewis). Bird will support his LP on a tour that begins June 15 at the Greek Theater in Los Angeles.
Over the phone from his home in Los Angeles, Bird, a low-key and thoughtful native of Lake Forest, Illinois, talks about pandemic-inspired "inner" stuff (his brain, his house) and the resulting songs that populate his last, and perhaps, greatest work.
When did you start writing the songs that would become Internal issues — before or during the pandemic?
Some of them started before that. There are always things that have been simmering for five or six years that I just find the time to organize. It was strange; I was wondering if just being in the same place would affect my writing, because I've always thought that traveling and playing affected my writing. Going from place to place, just leaving your house can give you perspective that triggers things. And then being on stage, this sort of sense of a dialogue with an audience; I thought [that] was also part of my process. But it turns out that wasn't so essential, and I needed the writing process to kind of keep my sanity and sense of purpose.
Was there a song that ended on Internal issues who set the tone when you realized, OK, that's where this disc goes?
I think of "Underlands" as a kind of template for the album. But the one I spent the most time on was "Faithless Ghost". And that's kind of an outlier. It started, I think, when my son – during the pandemic, we all got hooked up – started being the DJ in the house. And he played a lot of John Cale. And Velvet Underground, but the John Cale, "Paris 1919", in particular, this song played every day.
I was listening to lyrics about this ghost who is kind of a shy ghost, he never shows up when you expect him, doesn't stick to dates. And I thought I would take that idea and kind of develop it. I guess that's also how you feel when you search for things creatively. But that one was a very specific melody that I'm just trying to point in the general direction of this idea of ​​this shy ghost.
May I ask how old is your son?
He is 11 years old. He was 9 years old I guess at the start of the pandemic.
It's always a pretty interesting song choice for a kid, isn't it?
I mean, it's pretty funny. He lives in our universe. So, from a very young age, I never understood when people said 'Oh my child is listening to this horrible pop music and I can't do anything about it.' Like, why can you do anything about it? They live in your house.
Not like we were activists for anything. He complains about going to birthday parties and having to listen to Post Malone or whatever. He said, 'Why do they think children like this music?' Either way, it's a rant. But if I play a Nick Drake song, he starts playing it all the time. And I don't listen to a lot of music. So he actually influences me. And he actually becomes a very good guitarist.
There are so many beautiful references and lines in your lyrics. I was curious about "Lone Didion" – and I wonder if you've read Joan Didion's The Year of Magical Thinking to lose her husband and then her daughter?
In fact, before reading it, I was talking to a friend who used to entertain at a restaurant where Joan Didion and her husband [John Gregory Dunne] used to come as regulars, and they got the same table and ordered the same thing. It was around 2003. Then she didn't come for several weeks. And she came once more, alone. This story struck me and then I read the book.
Do you explore what you call the "threshold" of who we are in the "between" moments? A liminal space can be a term.
I just want to acknowledge this inner world that we all have that is usually not known to anyone else. It can either drive you crazy or be the best companion. If you can cultivate this inner world in the right way, you never have a good reason to be bored or lonely at times.
I just became more aware of that during the pandemic, during the insomnia… and it was like, OK, here I am, I'm stuck here. I can't sleep for two hours. I can either spiral around — like we tend to do in the middle of the night — or try to get everyone to work, then whip out a tune and play it back in my head. While I was working on those songs, it really, really helped me through that. Once I was done, those demons came roaring back.
I watched the Nexflix movie The bubble and appreciated. You were a composer on film; how did you get on board? Did this work affect this disk?
I did it after the disc was finished. I know Judd [Apatow] and he asked me to play a bunch of his Great Shows. They were doing charity shows once a month, and I was doing them and hanging around and I felt like he might have been circling me and waiting for a project to come to me. [He did] I arrived, during the last two months of work on the score, to work with Mike Andrews. Mike is his long-time composer and I was kind of an artist-in-residence, I guess. It's a very complicated score because you have to score the film within the film. And luckily I didn't have to deal with…
Dinosaurs?
Yeah [laughs]. He is very demanding and has very, very strong ideas about music, Judd does. So it was a long, long process. But he was good. I arrived at the right time: I was done with the record; I needed a project. But you have to generate a massive amount of music to satiate Judd. So it was five or six weeks, just producing many, many clues.
I know you had a song in Orange is the new black and other visual projects. How often do you write a song that you think is super cinematic? Or are there times when you look at something and feel inspired to write?
Writing a song for a movie is the ultimate challenge for me. Stock [an] the instrumental score is cool, but writing a song with lyrics specifically for movies…. I think like Harold and Maud as the ultimate project which I hope will see the light of day one day.
It's so hard to try to do it; to approach what happens in the film without directing the viewer and hitting them too closely. I feel like I would be a good fit for that because my lyrics, they can sometimes be a bit ambiguous. When I was writing "Underlands", at first it was just a melody. I was like, wow this looks like a movie music scene. I was working with T-Bone Burnett at the time on [HBO crime drama] real detective and I played it for him. He said, 'It's like the theme of a great 70s movie.'
When I got out of music school, that's what I really thought I wanted to do; film music work. But then I got a conversion van and a band, and I hit the road and started playing rock clubs across the country. And it became the road movie friend of my 20 years.
I understand that there is an unusual guitar on Internal issuesthe one that starts with "Underlands"?
My good friend Reuben Cox has the Old Style guitar shop in Silverlake. When I was working with Blake Mills on [Bird's 2006 LP] Are you serious, he was working with Blake. First we had these electric banjos that we all collected. And then there are very bizarre, rare harmonies, electric banjos. And then Reuben started putting rubber bridges on these weird old guitars. It's not that drastic to mute the instrument, but it feels like you're committing to it.
As permanent mute.
Yeah, it's hard to explain but what Blake was looking for… Well, guitars can take up so much space because they resonate so much, sonically. So you take all of that and it also creates these weird harmonics, if you distort it in the right way. It sounds from another world. I found when I first started playing these guitars that it was a bit like pizzicato, but not quite.
It's funny what started with Blake and me and meanwhile, we hear it a lot now. You hear it affect the music that is recorded. It was this particular Harmony guitar called the Caribbean, kind of art deco and very cool. That's the thing I just hit when we were recording; it just worked. From "Underlands" to "The Night Before Your Birthday," it can range from that gorgeous pizzicato to a Keith Richards rock 'n' roll thing.
The closer album, "Never Fall Apart", seems to end things on a somewhat optimistic note.
For "Never Fall Apart", my former guitarist, Jeremy Ylvisaker, sent me an EP he had made and [it] goes into Kevin Shields kind of territory, My Bloody Valentine. He had this melody in there, and I thought it was so beautiful. And the song was called "Never Fall Apart", but it had no lyrics. I sat down, took the melody and over time it evolved. I wrote that one pretty quickly, really inspired by that melody.
The last two songs of the album ["Stop n' Shop," "Never Fall Apart"] — according to the title of my record, people describe it as perhaps not responding to all the upheavals that My best work to date was, but there really are so many songs that deal with what's going on in the world. "Stop n' Shop" tries to understand what is missing in our lives that so many people need guns, walls or trucks to fill a void in their identity. And then "Never Fall Apart" tries to answer this question.
Do you still want to keep these two songs connected in a live set?
I like to keep things [together.] Sequencing the live set is a huge part of my job. Not just what key, what tempo and the sequences in between, but then the scenes and everything. I feel like half my job is sequencing. Whether people notice it or not, I don't know, but it's important to me.
Bobby Z. On 'Prince And The Revolution: Live' and Why The Purple One Was Deeply Human