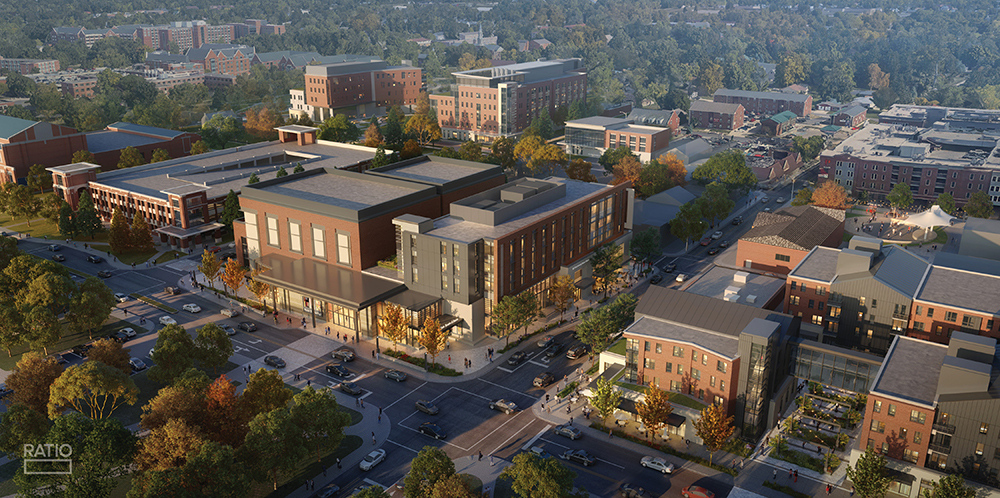 Ball State University Board of Trustees Advance Village Revitalization Plan – Muncie Journal
By Ball State Marketing and Communications—
MUNCIE, Indiana — The Ball State University Board of Trustees took an important step Friday to advance a long-term, phased revitalization plan for the village.
(Click here for a larger image of the artist's rendering shown above.)
The comprehensive plan includes a performing arts center for university events. This performing arts center will be the catalytic anchor for the commercial district, and the university's investment in the center will generate approximately $100 million in private investment. Upon completion of this ambitious project, the Village will provide a premier, multi-generational neighborhood driven by arts and culture, entertainment and innovation, with new options in dining, retail, services, entertainment and entertainment. welcome, life and gathering.
The council authorized Ball State Chairman Geoffrey S. Mearns to sign a memorandum of understanding with Fairmont Properties, a development company with a track record of successful edge-of-campus projects at institutions similar to Ball State. Fairmount Properties was selected after an extensive two-year review process.
"Given the importance of this work to our university and our community, we are thrilled to partner with Fairmount Properties," said Board Chair Renae Conley. "We believe Fairmount will provide us with the vast experience that will help us realize our collective vision for the village. »
The university has prioritized the revitalization of the Village, which has seen a slow and steady decline in recent years. In Ball State's ambitious strategic plan, Destination 2040: our flight path, community engagement is one of the main goals of the university. Implementing a long-term, phased plan to revitalize the village is a key strategic imperative of this goal.
"This significant revitalization on the edge of our beautiful campus will attract community members from across our region, further enhancing the appeal of our university and our city," said President Mearns. "For residents, this work will improve the quality of places in Muncie. And for businesses, this work will help retain talent and drive economic growth. I am grateful to our trustees for their support of this vital initiative.
"The proposed partnership will re-establish the village as a regional destination and strengthen the strong partnership between Ball State University and the City of Muncie," said Mayor Dan Ridenour, who attended Friday's board meeting. "This revitalization restores a true cultural district to the village area that will serve the Muncie community and the entire region."
The catalyst for the revitalization plan will be a performing arts center – located on vacant land at the corner of McKinley and University Avenues – which will draw people of all ages to the Village. The center will host more than 160 university performances and attract more than 35,000 visitors to the Village each year. The center will also host performances sponsored by local schools and other arts organizations.
The new performing arts center will include two new performance venues for Ball State Theater and Dance students. Since 1996, the number of theater and dance majors has more than doubled at Ball State, with nearly 450 current students pursuing bachelor's degrees in nine different college programs. Traditionally, more than 1,500 students audition each year for approximately 40 spots in Ball State's BFA theater and dance performance programs.
Following the partnership with the university, Fairmount Properties will invest approximately $100 million to design and build a premier hotel, a mix of retail and dining facilities, innovation office and research spaces, as well as than apartments and townhouses.
The living spaces will provide an attractive and convenient residential area for employees of Ball State, IU Health Ball Memorial Hospital and other Muncie businesses.
"The proposed revitalization plan for the village reflects years of planning and will be a game changer for our community," said Dr. Jeff Bird, president of IU Health Ball Memorial Hospital, who also attended Friday's meeting. "This is the kind of community amenities we need to successfully recruit and retain talented employees in Muncie."
Once President Mearns signs the memorandum of understanding, the university will finalize a development agreement with Fairmount Properties.
"Fairmount Properties is thrilled to partner with Ball State University," said Randy Ruttenberg, founder and principal of Fairmount, a company that has completed more than $1.5 billion in mixed-use development since 1998, the majority of which was through partnerships with universities. "Since responding to the University's RFP, our team has worked diligently with Ball State's leadership team to refine our strategy. We have met with various community stakeholders over the past year and have established relationships with many current merchants and owners in the village. We will use a district-wide approach to elevate the village, and we look forward to working with existing merchants and future tenants to do so. »
The university expects the development agreement to be completed by the end of 2022, with construction tentatively set to begin in 2024.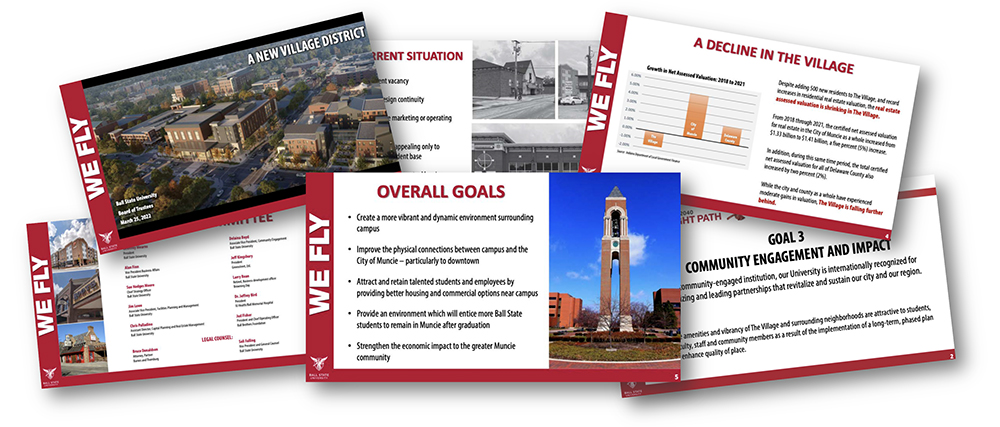 You can click here to view Ball State University President Geoffrey S. Mearns' presentation to the Board of Trustees on the Village Project.

---
About the state of the ball
Founded in 1918 and located in Muncie, Ball State University is one of Indiana's premier universities and an economic engine for the state. Ball State's 21,600 students come from all over Indiana, the country, and the world. The 790-acre campus is large enough to accommodate top-notch facilities and 19 NCAA Division I sports, but our welcoming and inclusive campus is small enough to provide the friendliness, personal attention and access that characterizes the University. Destination 2040: Our flight path establishes Ball State's ambitious goals for our second century. We want!