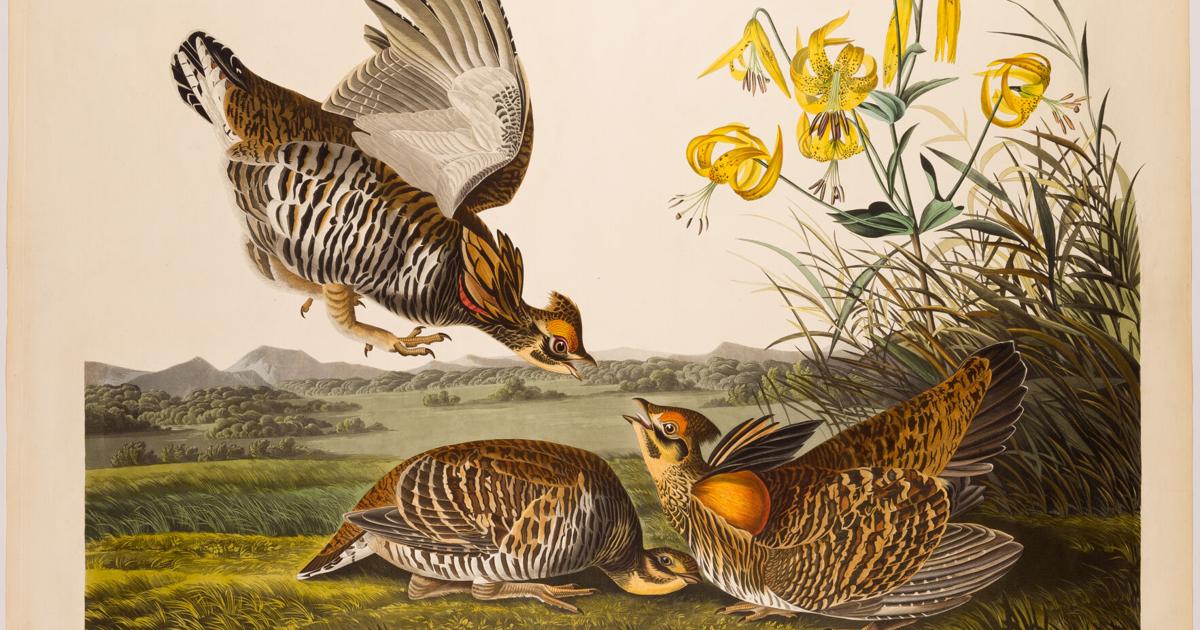 Bird Call: New Colorado Springs Exhibit Features Audubon Prints, Explores Controversial Ornithologist | Way of life
John James Audubon was a complicated guy who left a heavy legacy.
Bird lovers are likely familiar with his great gift, the famous "The Birds of America", a four-volume series of avian art printed between 1827 and 1838, in which he documented and painted life-size illustrations of native birds. from North America. In total, there are 435 engraved images of 490 species. The birds are often posed realistically and rather anthropomorphically, depending on who you ask, and surrounded by richly colored foliage and flowers. The John James Audubon Center estimates that only 200 complete sets have been compiled.
Colorado College's Colorado Springs Fine Arts Center has about 220 of these prints, and two dozen will be featured in the new exhibit "Reframing Birds of America: Conversations on Audubon." It opens Friday and will run until July 30.
"It's a museum gem," CC art professor Rebecca Tucker said of the prints. "Audubon is a topic of conversation these days in the world of museums and pop culture. (The National Audubon Society) is changing its name and rethinking the heritage of Audubon. It seemed like a great intersection between beautiful objects and a contemporary conversation What do we do with Audubon?
The exhibition is the culmination of a year of work by the students of the CC's museology class. They were able to collaborate with FCC staff on print selection, theme, design, font, installation and more.
"We want our exhibit to be accessible to a wide range of people," said Calaya Hudnut, CC Manager. "There are many great entry points for bird watchers, those who love art, the historical side of things and kids too."
A race was underway to document and classify everything in America during Audubon's time. And to achieve his goal, the ornithologist killed a group of birds during his travels across the country and put them down, using strings and wires. People also sent him dead birds for his collection.
"At the time, hunting was completely unregulated," Hudnut said. "He went on long hikes and hunted a lot of birds, picked up some, skinned them, wrapped them up and took them to where he needed to draw."
In his quest, Audubon was mistaken. He misnamed the birds and even invented a bird that doesn't exist. And there were questions about his ethics in naming the creatures.
2:14+5
Nature's Cleanup Crew: Meet the Vultures at the Cheyenne Mountain Zoo
"He did a lot of birding work, but it wasn't all 100 percent accurate," Hudnut said. "Did he name all these names himself when they already had local or indigenous names? He named them after himself or people around him, which was quite common at the time. And now people are asking if we should change the names of the birds? »
But these aren't the only controversial conversations surrounding Audubon. He was also a slave owner who "took no position against the institution of slavery," according to the Audubon.org website. He owned a trading post in Kentucky, where he bought and sold slaves, according to NPR.org, and sometimes relied on blacks and Native Americans to provide knowledge and gathering assistance for his series. birds, although he never acknowledged their help or gave them. credit.
Similarly, his original watercolors were sent to a printing press in England, where a number of people engraved and colored them. Audubon would not necessarily have seen or touched the prints in museum collections.
"Our whole idea is to try to demystify him as the sole creator of these objects," Hudnut said. "They are named after him, but so many people have worked there beyond him. This often happens with artists. It's a collaborative process, and there were other artists who drew plants in his original watercolors that he doesn't give credit to.
Bird Call: Crows, Glorious Crows; intelligent, talkative, noisy
At least one Audubon group has now changed its name – the Audubon Naturalist Society in Maryland is now the Naturalist Society. And the National Audubon Society is in the middle of a 12-18 month process to decipher whether a name change is in order.
"John James Audubon was indeed a slaveholder and a racist, and had a racial worldview that was extraordinarily oppressive to black people, indigenous people and people of color," said Jamaal Nelson, head of equity, Diversity and Inclusion at the National Audubon Society in November. interview for National Public Radio. "It is also true that the Audubon name and mark are today widely associated with birds."
This deep dive into problems is what Tucker hoped his CC students would face. Its nine students had to consider their nine different viewpoints, provide a group perspective, and decide what questions and stories their exhibit would offer viewers.
"There are a lot of stories to tell," Tucker said. "Sometimes these stories are contradictory. The students and I debated how you brought into conversation our appreciation of Audubon's work as well as other concerns about his work, such as his taking advantage of other artists, or the commodification of birds of somehow or the environmental impact it has had.
Contact the author: 636-0270