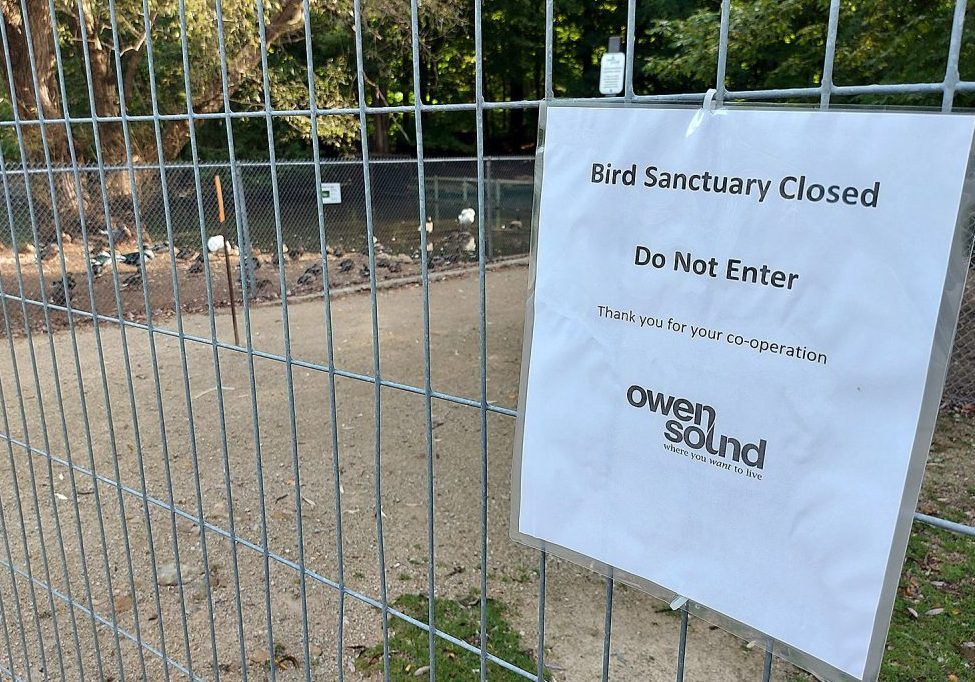 Harrison Park Bird Sanctuary under quarantine after bird flu confirmed
Content of the article
Bird flu has been confirmed in domestic birds at the Harrison Park sanctuary and it has been placed under quarantine order.
Content of the article
The Canadian Food Inspection Agency notified the city on Monday of positive test results for the highly pathogenic H5N1 virus after city staff observed birds showing possible symptoms on Friday. Laboratory tests are necessary to confirm the presence of avian influenza.
On the advice of the CFIA, a perimeter fence has been installed around the sanctuary to eliminate public contact with the domestic birds within. The shrine has been placed under quarantine order.
The city's director of parks and open spaces, Adam Parsons, said Tuesday morning that some birds had perished in the park from the virus, including geese and a duck.
Birds have been kept in the park since 1921 and there are currently around 50 domestic birds living there, including around 30 ducks, geese and swans outside and around 20 ornamental birds such as peacocks and pheasants in indoor enclosures.
Content of the article
So far, no swans or ornamental birds have died and appear unaffected, Parsons said.
"The swans we monitor several times a day and they don't seem to be affected," Parsons said.
"Waterfowl tend to be a bit more resilient. Since swans are naturally present in our environment, they seem to have a resistance to this and we really hope our swans continue to show this.
The CFIA responded to cases of highly pathogenic H5N1 avian influenza in farmed birds across the country. Since late 2021, new cases of the virus have spread around the world, resulting in the death of birds and the culling of many millions of poultry and egg-producing birds in Canada. It can cause serious illness in humans and spread to humans through direct contact with sick birds, contact with contaminated materials, consumption of infected birds, and in rare cases direct contact with a person. sick.
Content of the article
Symptoms in poultry can be mild, including ruffled feathers and reduced egg production, to severe, resulting in the complete death of a flock within 48 hours of infection.
Parsons said he noticed the first symptoms at the park on Friday, contacted his local veterinarian and it was quickly determined that the CFIA should be contacted. The CFIA visited the park, carried out an inspection and, on their advice, the city installed the perimeter fence.
Parsons said that by the time symptoms appear in birds, they can die within hours. Symptoms they have experienced in the birds include tremors and difficulty holding their heads up.
Parsons said they work with a CFIA veterinarian and unfortunately there is no recommended treatment for birds once they are infected with the virus.
Content of the article
The virus can infect several species of food-producing birds such as chickens, turkeys, quails and guinea fowl, as well as pet and wild birds. There is no evidence to suggest that eating poultry or cooked eggs can transmit the virus to humans.
City staff continue to work with the CFIA and will follow their direction to manage the disease outbreak in the park. Key personnel have received additional information, training and PPE and continue to provide basic bird care.
"We are still in communication with the CFIA and they are supporting us," Parsons said. "They have been a great organization to work with as this situation has developed."
Although the CFIA's mandate does not include wild bird testing, Parsons said some wild birds have also been found dead inside the sanctuary's open area. He said they do their best to separate wild birds from domestic birds, but due to the site's size and location among the trees in the park, it's difficult.
Content of the article
Parsons said staff have yet to report signs of the virus in wild birds elsewhere in the city.
Anyone who locates a dead wild bird is encouraged to contact the Canadian Wildlife Health Cooperative, which can be done through their website at cwhc-rcsf.ca
The Ontario Wildlife Hotline can also be contacted at 1-800-567-2033.
Other recommended measures to help prevent the spread of the virus include not touching or hand feeding wild birds, regularly cleaning feeders and garden baths using a weak solution of household bleach and water and to separate domestic and wild birds whenever possible.