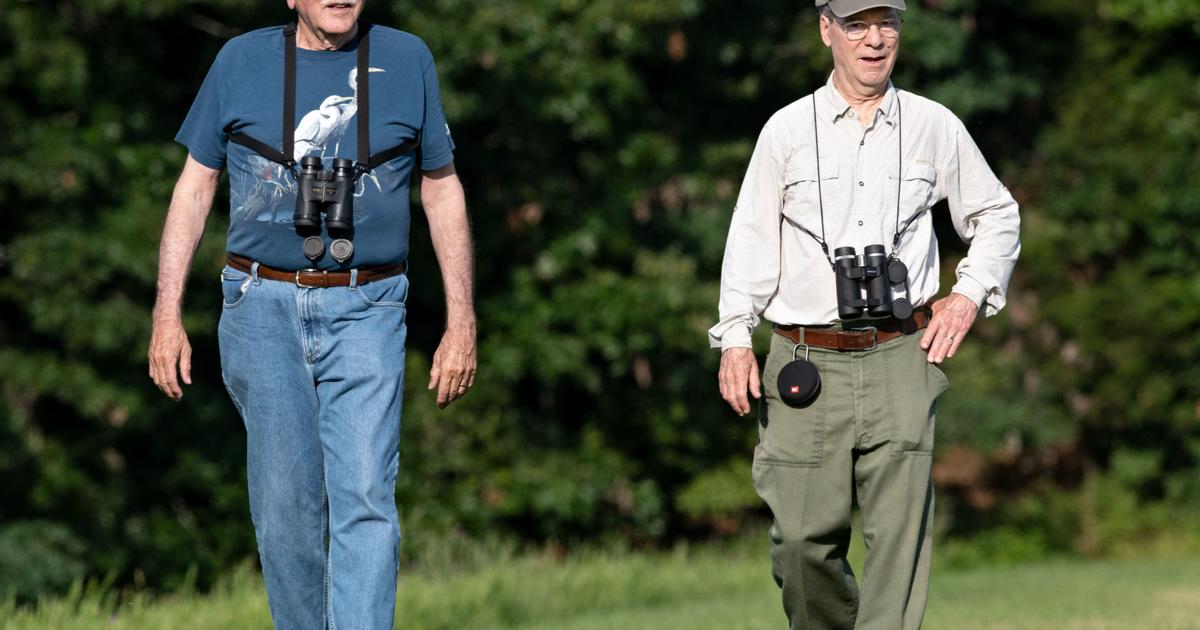 Lake Frederick neighbors share a love of birding | Winchester star
Bill Parkin, 79, recalls walking down a sidewalk at Lake Frederick with his binoculars nearly seven years ago when Dave Boltz, now 72, pulled up in his car and asked him s he watched the birds.
"And we've been birding together ever since," Parkin said.
Parkin has been birdwatching since 1993, when he and his wife left for a second honeymoon in Cape Breton, Canada.
"There were eagles everywhere," he recalls. They also saw "puffins and all kinds of exciting new birds that I've never seen before".
At the time, the couple lived in central New Jersey, and Parkin would walk near their home to spot birds in the area.
Parkin served as state epidemiologist and director of epidemiology and disease control in New Jersey for about 15 years after eight to 10 years of epidemiology in Pennsylvania.
After he and his wife retired, they moved to Lake Frederick in 2010.
"The birds brought me here," he says.
He had heard of a barred owl spotted at Lake Frederick and had traveled to the area to see it.
"I didn't see the barred owl," he said.
But he found a new place for him and his wife, who was retiring from serving as vice dean at George Washington University and wanted to move to the countryside.
"Since I've been here, I've seen over 200 species of birds," Parkin said.
He said Boltz spotted four or five types of birds that he didn't see.
Boltz saw a golden eagle that Parkin has yet to see.
Typically, they see birds like Canada geese, Carolina wrens, eastern kingbirds, mockingbirds, golden and house finches, sparrows and blue jays, Boltz said.
But the pair said the most unusual bird they've seen at Lake Frederick is a white pelican, which is often seen on the Atlantic coast but not usually this far inland.
Boltz also recalled seeing several black-bellied whistling ducks for a few hours one day. Those would be expected on the south coast of Louisiana or Texas, he said.
Although Parkin has many years of birding experience, he said Boltz has the best ear for identifying bird calls.
"They have to call us and tell us they're here," Parkin said. "When we hear the birds, it tells us where to look."
Boltz, who played trumpet in the Air Force band for many years before teaching the band in Fairfax County, retired in 2011.
He became interested in bird watching while living in the Alexandria area and learned that the Wild Bird Center organized bird watching activities.
"I like to do a good outdoor activity," he said.
But beware: birdwatching, he says, is addictive.
"It's a laid-back hobby that gets you outside," he said. It also offers "many interesting things besides birds".
Twice, he recalls, he and Parkin encountered bears in the wild while searching for birds.
Another time in West Virginia, they saw a rattlesnake.
"We were in no danger of being bitten," he said.
One of Boltz's favorite birding spots is Briery Branch Gap west of Harrisonburg where, he said, "you find a totally different set of birds."
"We took a two-week trip to Texas, Bill and I, and saw over 200 species in two weeks," he said.
Parkin said it was difficult to pick a favorite spot because the world offers such interesting birds.
Having traveled to Chile, Brazil, the Galapagos Islands and Svalbard between Norway and the North Pole, he said one bird he always hopes to see is the rosy gull, a pinkish gull that lives in the far north and that he missed seeing in Svalbard.
"Other than that, I love penguins," he said, and he saw five or six species.
In Ecuador, he "blinked at the wrong time" and missed a bright orange bird his group was watching.
"The guide was the only one who saw it," he said.
Many people, when they travel, visit museums or cathedrals, Parkin said, but birdwatching takes him and his wife — an "SOB" or "birder's wife" — to small cities and the countryside.
"We end up somewhere in the backwaters," Parkin said. "There's always a bird I want to see."