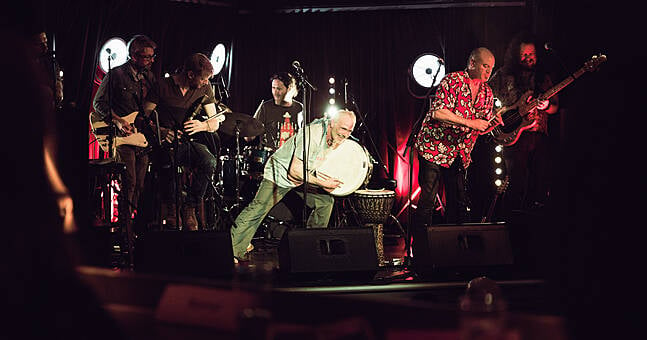 Live report: Kíla at judge Roy Beans
Kíla performed an electric set at Judge Roy Beans as part of the Summer of Music program, supported by the Ministry of Tourism, Culture, the Arts, Gaeltacht, Sports and Media.
Kíla was in full swing at Judge Roy Beans in Newbridge, County Kildare as they put the crowd on their feet with a phenomenal mix of trad and everything from funk to West African music.
Rónán Ó Snodaigh took the stage alone before Kíla enlightened Judge Roy Beans with their frenzied set. Rónán kicked off the show with a bodhran solo before the rest of the group joined him in the spotlight.
"I don't want to talk too much. We're not here to argue, "Rónán said at the start of the show and the band stuck with that sentiment. Barely speaking between songs and sets, Kíla entertained the crowd with her energetic presence and vibrant music.
The group played a hornpipe as Rossa Ó Snodaigh showed off her unique whistle ability with magnificent bird-like trills. Kíla then started a song as Rossa picked up two sets of bones and played both effortlessly.
The group performed some of their greatest songs from their historic catalog, including 'Electric Landlady' from 2007 Player's ballet, "Ór agus Airgead" and "Seo Mo Leaba. They also performed an interpretation of the famous folk song "Bruach Na Carraige Báine".
While Irish folk music is central to everything Kíla does, they combine elements of various genres with their music. Behind the bodhran, uilleann pipes, whistle and flutes, a full drum kit added an edge to the band's performance.
Brian Hogan infused the mix of funk with his sleek bass playing. A djembe was handed out while Sennan Brennan played growling chords on the guitar. Eamon Galdubh swapped his uilleann flute and pipes for a saxophone at one point and there was even a bit of beatboxing during the show.
"I just came back from this big illness. It's nice to have guys around and it's nice to be out of my room – shit that shit! Ronan said. The band then played 'Skinhead Reels' and walked off the stage, but it didn't take long for them to get back in front of the crowd.
Back for an encore, Kíla performed 'Her Royal Waggeldy Toes' from Player's ballet. "The story is that you are allowed to stand up," Rónán said and the crowd rose. Kíla finished her set with 'Tog É Go Bog É' as the crowd danced and cheered to the easy-going reggae-trad brew.
It was a spectacular show by Kíla that ignited the audience with their performance which lasted just under two hours. The legendary folk outfit combined her wild persona on stage with phenomenal instrumentation, which made for a brilliant evening.
You can see more photos of Kíla's set at Judge Roy Beans here. Highlights of the show will be posted on Hot press'Youtube very soon.
This project was partly funded by the Ministry of Tourism, Culture, Arts, Gaeltacht, Sports and Media, as part of the Live Performance Support Program.