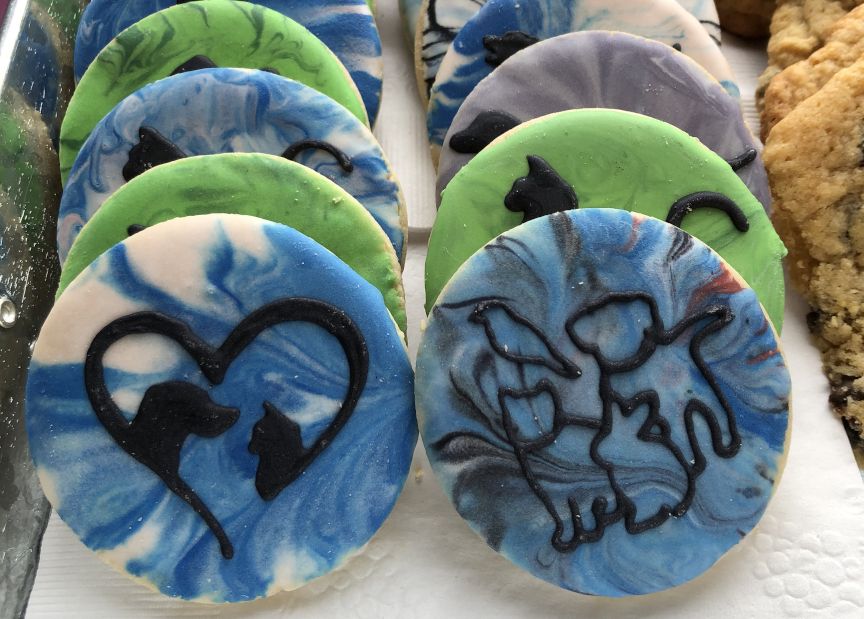 Local humanitarian society is recruiting bakers again for annual Baking for the Animals fundraiser
Registration is now open for the Humane Society of Kitchener Waterloo and Stratford Perth's annual Baking for the Animals fundraiser, for which local bakers are encouraged to sell their sweet treats online, with proceeds going to help animals local pets and stray animals in need.
Content of the article
The Humane Society of Kitchener Waterloo and Stratford Perth is appealing to local bakers to help raise funds for the vital services the organization provides to pets and strays in the area.
Advertising
This ad has not loaded yet, but your article continues below.
Content of the article
Registration opened this week for the local humane society's third annual Bake for the Animals fundraiser, which will give locals the chance to bake sweet treats and sell them online throughout February. , with all proceeds going to help the animals the organization serves.
"This fundraiser started overseas, and it actually started as National Cupcake Day, so humanitarian societies in many different fields participated," said Calla James, director of community engagement. and sensitization of the local human society. "Two years ago we renamed the event Bake for the Animals and we joked because we don't discriminate against any sweets.
"We love cakes and pies like we love cupcakes. … So you can make cookies. You can make brownies. You can do what you want."
Anyone interested in volunteering their baking skills at the Humane Society shelters in Stratford and Kitchener-Waterloo can register online at kwsphumane.ca/events/bake-for-the-animals. Once registered, attendees will receive a Host Kit in the mail that will guide them on how to set up their online bakery and collect donations from friends and family.
"They will be using our Peer2Peer online fundraising software which will allow them to register and collect their donations online so they can send this link (for their online bakery) to their friends and family," James said.
Anyone who registers for the online fundraiser before January 27 will be entered to win an early bird prize.
Advertising
This ad has not loaded yet, but your article continues below.
Content of the article
While in previous years the Humane Society encouraged attendees to hold their own bake sale nights at the end of the month to allow anyone who bought candy to collect them, James said the ongoing COVID-19 pandemic had once again hampered this style of celebration. . However, she said attendees will be able to arrange curbside pickup, home delivery or even a socially distanced office drop-off at work to ensure everyone who buys treats gets them.
For residents of the Stratford area, the Stratford Perth Shelter has partnered with local grocery bakeries Zehrs and Sobeys to give to those who want to help fundraise but may not want to do the baking themselves, a chance to buy deals directly with human society. Area residents will be able to order baked treats from Zehrs and Sobeys through the Bake for the Animals webpage until around mid-February, and their orders will be ready for pick-up on February 28.
The local humane society is also running a 50-50 online raffle from February 1 to March 6 as part of this fundraiser, and they are accepting monetary donations through the website for those who simply wish to contribute in this way.
"All funds raised through our fundraisers go to directly support our centers and our animals," James said. "These fundraisers help bring in essential funds that support things like care costs for our animals and medical costs for animals. They are in favor of having our clinics in human society centers to support these emergency surgeries. … It's very clear to us that these are life-saving funds and really help the animals we support.
gsimmons@postmedia.com