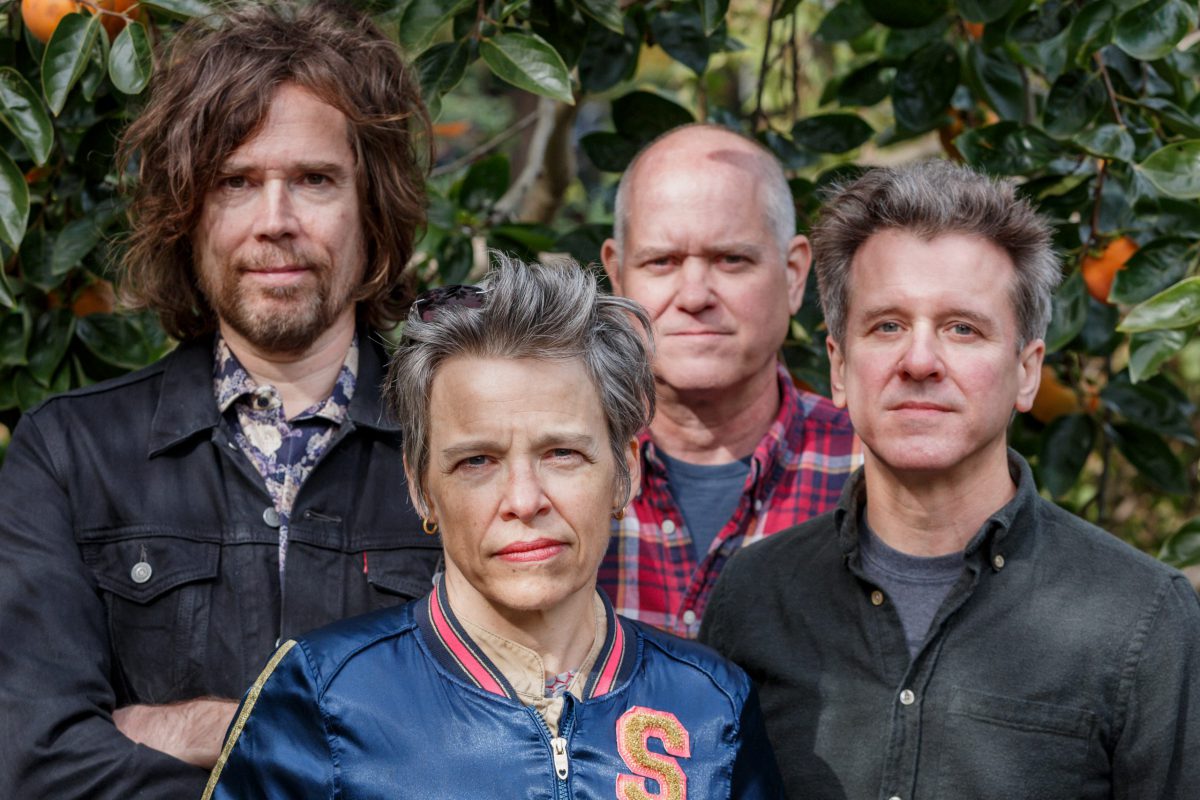 Superchunk, Samm Henshaw, Imarhan: Tuesday Tracks
The singsong, soulful vocals of Samm Henshaw, the reverie of The Reds, Pinks and Purples, the dark rhythms of Flower Face and the folksy storytelling of Imarhan make this week's Tuesday Tracks cut. We complete this list with new versions of the bird and the bee and Superchunk.
Imarhan and Gruff Rhys, "Adar Newlan" – Thanks to Damon Albarn of Blur, Gorillaz and Mali Music fame; Gruff Rhys of Super Furry Animals met Imarhan, a Tuareg quintet from Algeria. The animated video tells the story of Rhys sharing tea with the nomadic Tuareg people of Saharan North Africa. The music is a wonderful combination of artists singing in their native languages, Tamasheq and Welsh. With the addition of applause and light guitar strumming, a story about the Tuareg ancestors unfolds. Voices rise and fall, and you can feel Imarhan's emotion. The song brings happiness and struggle together in a folk tale brought to life on video.
***
Reds, pinks and purples, "Let's pretend we're not in love" – ​​Glenn Donaldson, from Richmond in San Francisco, is the artist behind The Reds, Pinks and Purples. Its lyrics are tearful, but the music is dreamy. Donaldson's song has a beautiful sadness to it and also captures the hazy fuzziness of the Richmond in its artistry. Vocally, "Let's Pretend We're Not In Love" is a bit Morrissey-esque. It's mixed with the dream-pop sound of 4AD Records. The song will be released on Summer at the end of the world, which comes out next month. Listen to it as you stroll the typically cold, covered Ocean Beach.
Sam Henshaw, 'Grow' – British and Nigerian soul crooner Samm Henshaw recently made his late night television debut on 'The Late Late Show with James Corden.' This song opens with a gorgeous string section, bringing you into the fray. Henshaw oozes charisma and charm, and focuses on vocal performance that recalls the soul of Marvin Gaye. Halfway through, the beats pick up and the song becomes an R&B jam. Her performance has a contagion that makes you want to be in the audience. Henshaw's Scrapbook, messy soulreleases January 28. I can't wait to see him on tour!
***
flower face, 'Sugar Water' – Montreal singer-songwriter Ruby McKinnon, who performs Flower Face, created her own video for 'Sugar Water.' The singer used music to get her through her dark emotions. She survived cancer before graduating from high school. The video, inspired by games like "Rock Band" and "Guitar Hero", features her as a character in such a game. The melodies are dark and dark as she sings about obsessive love. Placed on aerial and ethereal keys, her voice soars. Yet the song has a melancholy that doesn't let up, even as the guitars grow bolder. The music is haunting and will stay with you.
The bird and the bee, 'Lifetimes' – LA duo The Bird and the Bee reunited once again. Singer Inara George and multi-instrumentalist (and super-producer) Greg Kurstin have also released a new song. The Bird and the Bee are celebrating 15 years since their 2007 self-titled debut album. "Lifetimes" is a cool, light and breezy track that showcases George's shimmering vocals. Textured guitars glide perfectly over vocals. The lyrics recall a long-lost era as George sings about his youth. It's an infectious gem of bubblegum pop that you'll want to repeat.
***
Superchunk, 'This Night' – Every time Superchunk announces a new album, I get really excited. The North Carolina band have been a fixture on the indie scene since the 90s, and they never disappoint. Superchunk started Merge Records and continued to release amazing albums while finding time to tour. So get the tape deck ready and turn up the volume. Infectiously upbeat, the guitars pack punch and riffs that don't stop. Mac McCaughan's vocals are warm and uplifting on the catchy chorus. The melodies are tight with the addition of backup vocals by Camera Obscura's Tracyanne Campbell. The song is a power-pop gem that never gets old.
Rachel's choice: Like many other fans, I feel complete joy when I see Superchunk mentioned. I'm excited before I even hear it, because how can it not be good? As with The Bird and the Bee's new song, "This Night" harkens back to the past. Both songs seem to bring to life a world that no longer exists. The harmonies of Camera Obscura! Ridiculous power-pop riffs! And let's not forget Laura Ballance's infectious basslines. Sadly, she no longer performs live with Superchunk, but hearing her is still a treat. This group is like a warm friend who can always make you smile.
Follow writer Rachel Goodman on Twitter.com/xneverwherex and Instagram.com/xneverwherex.