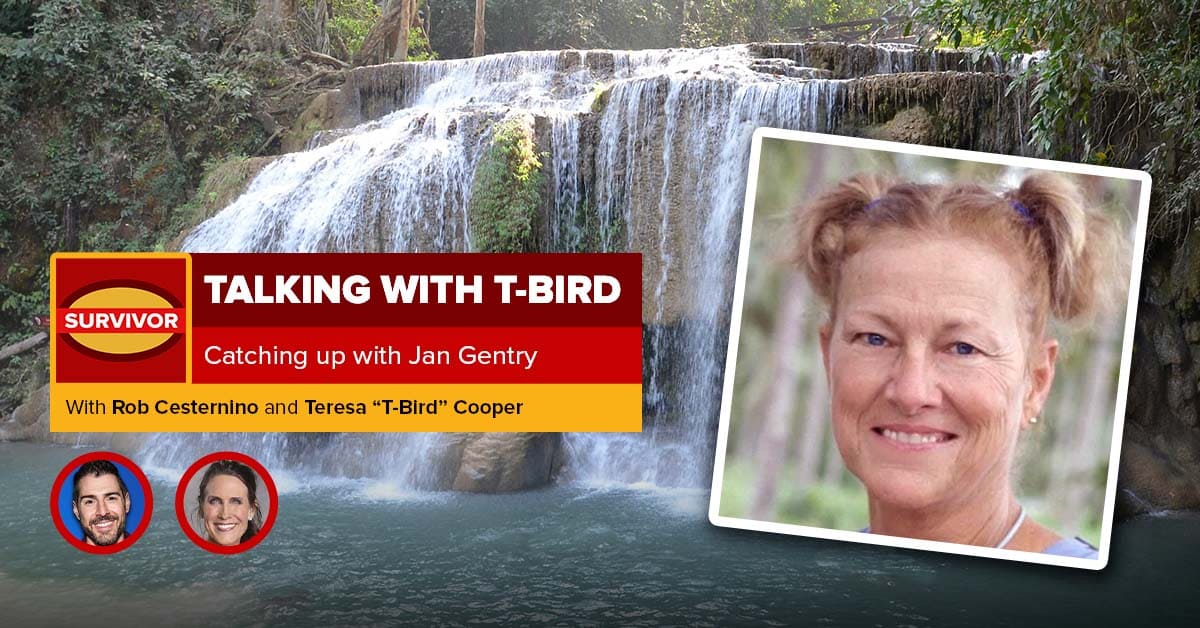 Talking to T-Bird: Jan Gentry – RobHasAwebsite.com
Talking to T-Bird: Jan Gentry
The time has come for the return of "Talking with T-Bird". Each episode, Rob Cesternino (@robcesternino) and Survivor: Africait is Teresa "T-Bird" Cooper (@tbirdcooper) will catch up with a former Survivor player and talk about anything and answer questions from listeners. In the fifty-second episode of "Talking with T-Bird", Rob and T-Bird's guest is 3rd on Survivor: Thailand, John Gentry.
Jan's Survivor's career began with great responsibility: as an elder woman, she was in charge of choosing the members of the Chuay Ghan tribe. Although she was criticized for choosing the castaways who were older and perceived to be weaker, it was perhaps this early game decision that caused her to last in the game until Day 38. A goofy and quirky character, Jan both mystified and entertained his tribe. Perhaps most memorable is the pet cemetery she established on Chuay Ghan Beach, best told in Mario Lanza's Funny 115 article. Jan's non-threatening demeanor protected her until the Final Immunity Challenge, where season winner Brian Heidik decided to send her to the judging panel because he felt she was well-liked and had a better chance against Clay Jordan. T-Bird and Rob are thrilled to reunite with Jan 20 years after her debut in Survivor.
You can check out Jan's stats on the Survivor Wiki of their Survivor career here: Jan Gentry Survivor Wiki Profile.
Get your hands on custom Talking with T-Bird merch!
Past episodes of "Talking with T-Bird":
Talking to T-Bird: Helen Glover – May 30, 2019
Talking to T-Bird: Stephenie LaGrossa Kendrick – June 20, 2019
Speak with T-Bird: Gretchen Cordy – July 2, 2019
Talking to T-Bird: Kelly Goldsmith – July 11, 2019
Speak with T-Bird: Sergeant Judd – July 22, 2019
Speak with T-Bird: Sean Rector – July 29, 2019
Speak with T-Bird: Scout Cloud Lee – August 3, 2019
Speak with T-Bird: Robb Zbacnik – August 13, 2019
Talking to T-Bird: Rodger Bingham – August 18, 2019
Speak with T-Bird: Ami Cusack – August 25, 2019
Talking to T-Bird: Frank Garrison – August 31, 2019
Talking with T-Bird: Shii-Ann Huang and Natalie Bolton – September 19, 2019
Speak with T-Bird: Vecepia Towery – January 19, 2020
Talking to T-Bird: Tom Westman – June 6, 2020
Talking to T-Bird: Heidi Hamels – June 21, 2020
Talking with T-Bird: Debbie Wanner – July 8, 2020
Speak with T-Bird: Michael "Frosti" Zernow – July 14, 2020
Talking to T-Bird: Kathy Vavrick-O'Brien – July 25, 2020
Talking to T-Bird: Randy Bailey – August 8, 2020
Speak with T-Bird: Keith Famie – August 18, 2020
Talking to T-Bird: Ian Rosenberger – September 4, 2020
Talking to T-Bird: Lindsey Richter – September 19, 2020
Speak with T-Bird: Robert "The General" DeCanio – September 26, 2020
Talking to T-Bird: Gervase Peterson – October 12, 2020
Talking to T-Bird: Katie Gallagher – October 20, 2020
Talking to T-Bird: Jerri Manthey – October 30, 2020
Speak with T-Bird: Dreamz Herd – November 16, 2020
Talking to T-Bird: Brandon Quinton – November 23, 2020
Talking to T-Bird: Cindy Hall – December 1, 2020
Speak with T-Bird: NaOnka Mixon – December 10, 2020
Talking with T-Bird: Cindy and Mindy Hall – December 17, 2020
Talking to T-Bird: Julie Berry – January 10, 2021
Talking to T-Bird: Kelly Wiglesworth – January 24, 2021
Talking to T-Bird: Ghandia Johnson – January 31, 2021
Talking to T-Bird: Lex van den Berghe – February 7, 2021
Talking to T-Bird: Holly Hoffman – February 21, 2021
Talking to T-Bird: Todd Herzog – February 28, 2021
Speak with T-Bird: Maralyn "Mad Dog" Hershey – March 7, 2021
Speak with T-Bird: Dawn Meehan – March 27, 2021
Talking to T-Bird: Anthony Robinson – April 4, 2021
Talking to T-Bird: Danni Boatwright – April 11, 2021
Talking to T-Bird: Rory Freeman – May 11, 2021
Speak with T-Bird: Clarence Black – May 23, 2021
Talking with T-Bird: Keith and Wes Nale – June 26, 2021
Speak with T-Bird: Shane Powers – June 29, 2021
Talking to T-Bird: Michaela Bradshaw – July 18, 2021
Talking to T-Bird: Sandra Diaz-Twine — September 16, 2021
Speak with T-Bird: Taj Johnson-George — June 3, 2022
Speak with T-Bird: "Timber" Tina Scheer — June 17, 2022
Talking to T-Bird: Jaison Robinson — June 26, 2022
Talking to T-Bird: Colton Cumbie — July 16, 2022