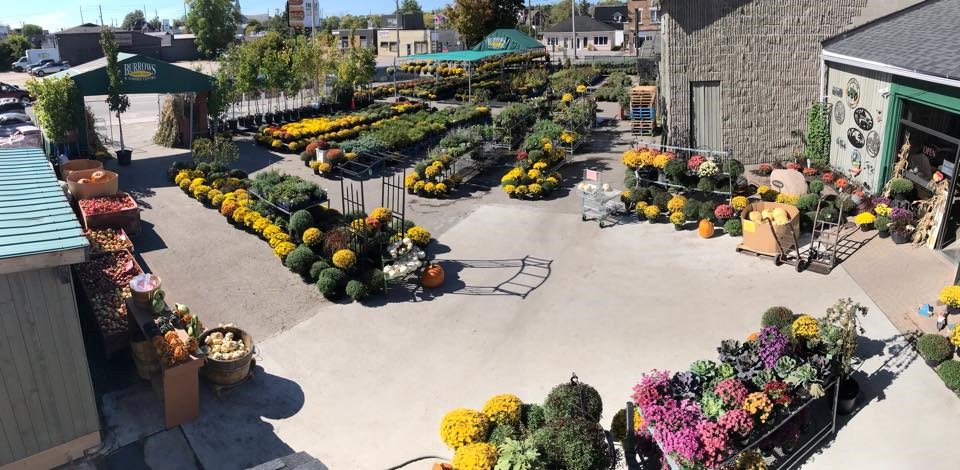 The country store has served generations of North Bay shoppers
"I remember stories of horse-drawn wagons and how they loaded supplies at the store to take to lumber camps"
It's rare today, in a crowded market of big box stores, to find a thriving multi-generational business like North Bay's Burrows Country Store and Garden Centre. With 107 years in business, the third generation of the Burrows family continues to serve loyal customers and evolve to meet changing customer demands.
The first Burrows Country Store was started by Harvey Burrows in 1915 on the corner of Cassells and Percy in downtown North Bay. Harvey Burrows was born in North Bay and raised his own family in the small northern Ontario town.
The original store sold groceries and eventually added livestock feed, agricultural products and was a distributor for Purity Flour Mills. Harvey retired in 1958 and handed over the reins to his son Jack.
Jack Burrows moved the business to its current location at Third and Cassells. Due to competition with other major grocery chains that began to proliferate in the city, they decided to eliminate groceries and focus on farm foods, agricultural produce, supplies for pets and gardening.
Jack and his wife Elaine ran the store until he was elected Mayor of the City of North Bay in 1995. Burrows, who died in 2013, was very involved in his community, not only as a politician but also as a as a community builder. He was one of the founders of the North Bay and Area Community Foundation.
Burrows having gone to City Hall, his daughter Debbie and her husband Bob Hudson were next. Both were full-time teachers and had to seriously consider changing careers.
"We took our time thinking about giving up our secure positions in education to embark on a successful business," explained Debbie Hudson.
Want to read more northern business stories? Subscribe to the Northern Ontario Business Newsletter here.
Bob took time off to learn about running a business and eventually quit teaching to become part owner with his wife in 2001. Debbie continued to teach and work in the store part-time in the spring and summer , eventually joining her husband. also full time.
They both enjoy working together but mostly enjoy serving the community, just like his parents. Burrows was never far away, always there in the background to support and cheer him on.
"My dad was a gentle, patient man who was loved by his customers and I learned a lot about customer service from him," recalls Debbie.
When they took over the store, the garden center was the main focus and they offered three full-time landscaping crews for design, installation, maintenance, grassing and interlocking brick .
"Being a family business means we have more flexibility in making decisions," Debbie explained. "Our employees are the best. Our manager suggested that we start selling women's fashion, and at first we weren't so sure, but it sold really well.
In fact, Burrows Country Store has a satellite location in the Northgate Mall that offers made-in-Canada fashion.
"We only buy Canadian brands, which can sometimes be hard to find," she explained.
They also brought menswear and gifts. During the Christmas season, family pajama lines were very popular. They also brought puzzles and games during the pandemic and, as expected, sales are fast.
"We've always carried bird food to the garden center, but during the pandemic it's been in high demand," Debbie said.
The store has evolved over the years and each owner has responded to the needs of their customers.
Debbie recalled stories she had heard about her grandfather and the first store.
"I remember stories of horse-drawn wagons and how they would load up supplies at the store to take to lumber camps," she recalled.
"My grandfather let them rest their horses in the yard."
Today, the store continues to offer farm food, pet supplies, and supplies for the growing number of bird watchers.
Both Debbie and Bob have followed the Burrows way of doing business, which includes contributing to the community. They received the Nipissing University/Canadore College Small Business of the Year award in 2010 and the Bell Excellence Business Award for Small Business of the Year in 2017.
Like the other children of Jack and Elaine Burrows, his grandchildren worked in the store during the summer holidays and – who knows – maybe this business has another 100 years ahead of it.
This article is part of a series focusing on the rich stories, journeys and long-term successes of generational businesses in Northern Ontario.