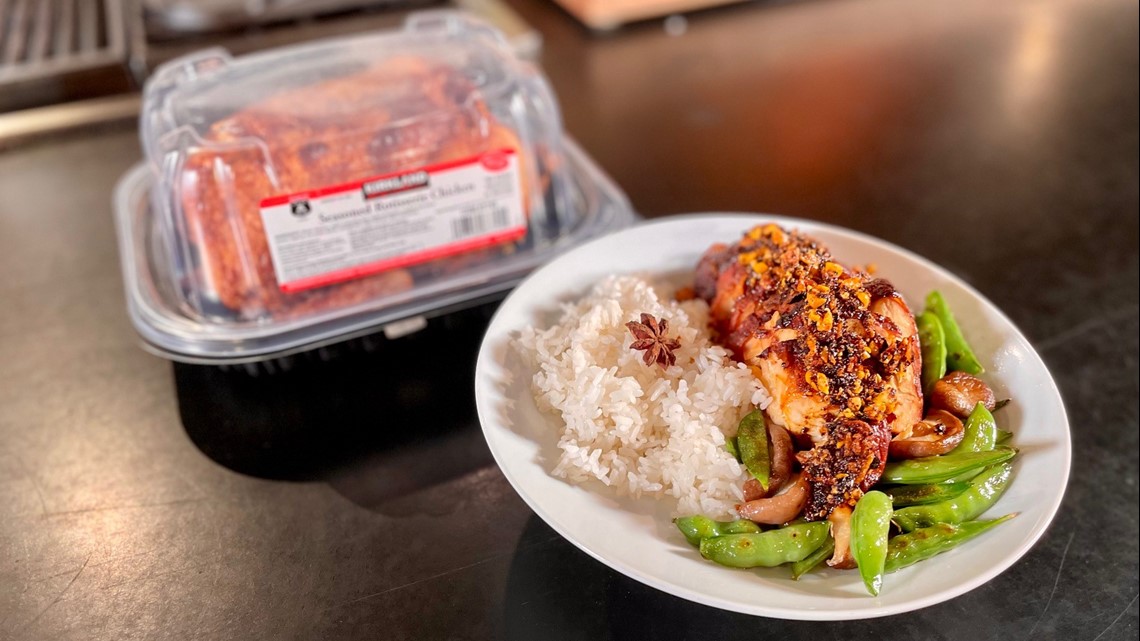 Turn These Costco Roast Chickens Into A Second Meal – Douglas Demos
There are always remnants of these big birds. #king5evening
SEATTLE — Costco sells 100 million rotisserie chickens every year! And while these $5 birds taste great on their own, chef Tom Douglas has a recipe for leftovers. He joined us from the kitchen of the Hot Stove Society.
Costco Chili Crisp Roast Chicken by Tom Douglas
Costco Roasted Chicken Breast Meat (or any store-bought roast chicken)
5 shiitake mushrooms
½ lb. Peas
White rice
1 star anise pod
Crispy Chili (we suggest Kari Kari Garlic Chili Crisp – made in Seattle)
1 teaspoon sesame oil
1 tablespoon peanut oil
Cook your favorite rice according to bag instructions (we used Niko Niko Calrose rice). Place 1 star anise pod in the rice pot before steaming.
Slice the chicken breast meat from your roast chicken. Place in the oven at 325F for about 20 minutes or until the internal temperature reaches 145F.
Place peanut oil in a hot skillet and sauté shiitake mushrooms and sugar snap peas until well seared. Add sesame oil.
To serve, pour sticky rice into a serving dish. Place the chicken slices on one side of the rice and the sautéed vegetables on the other. Drizzle the crispy chili over the chicken.
KIEvening NG 5 celebrates the North West. Contact us: Facebook, TwitterInstagram, Email.