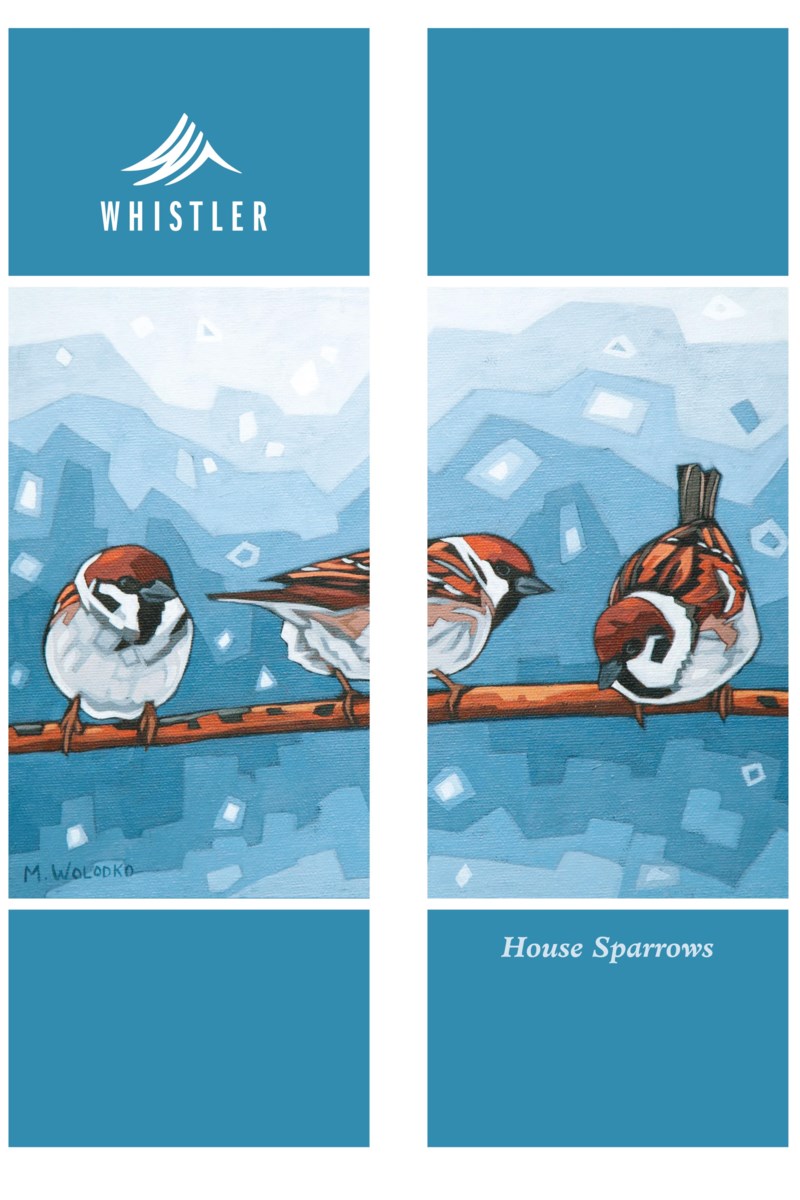 Whistler unveils winter street banner design
[ad_1]
Maxine Wolodko's Birds of Winter series features a sparrow, black-capped chickadee, whiskey jack, and star jay
Whistler and wildlife go hand in hand, but when you consider the resort community's most iconic animal residents, it's usually bears, eagles, and groundhogs that people think of first.
This is why Vancouver artist and graphic designer Maxine Wolodko wanted to dig a little deeper before finding a subject for her winning design selected by the Resort Municipality of Whistler (RMOW) to adorn street banners in the community this winter. .
Entitled "Birds of Winter," the banners feature four birds common to Whistler this time of year: a sparrow, a black-capped chickadee, a gray jay (colloquially known as a whiskey jack), and a star jay.
Wolodko says the experience of spotting and painting the birds of Whistler was an educational experience that she hopes to extend to audiences new to her work.
"I am not a fan of ornithology, except for my art," says Wolodko. "I love it when I see something new and have to find out what this bird is."
Whistler is home to some 270 species of birds, and despite their ubiquity, Wolodko finds that our feathered friends are quickly disappearing for most casual viewers.
"As we lead our busy lives, they're kind of there," she says. "I like to take the time to be in the park and be quiet in the background, to see what's coming out of them and to spend time watching them. Then I think coming home and painting them is a way for me to spend more time with them instead of being there. Then if someone else is looking at the artwork and has the same feeling, that's just a bonus. "
The brightly colored work was selected by a jury made up of city staff, as well as representatives from Arts Whistler and the Audain Art Museum. RMOW Parks Manager Martine Pardoe said part of it was the simplicity and elegance of the design that ultimately won over the committee.
"It was something we had never seen before, these four birds in one piece, at least in recent memory. And there is something about the way the birds are drawn that is really sweet and innocent, "he says. Prick. "It's the little birds, not the usual eagle or osprey or a larger bird that we sometimes see. These are birds that are still a big part of our character and make you look at it in a little more detail. "
The Whistler Street Banner Program has been around since the late '90s and designs have evolved in both quality and creativity, Pardoe notes.
" They have [grown] more professional. Only the subjects and the composition got beyond the basics of mountains and bears and trees and that sort of thing, "he says.
"We've had bear banners, we've got a lot of bear art, and people love bears, but it's good to have something different."
Typically, RMOW looks for a design that reflects "the scenery, character, activities and plants of Whistler," and if it has some kind of educational component, even better. Artists are also encouraged to favor bold designs and bright colors over photography and text, especially in winter, to help grab people's attention.
Wolodko's banners were fully installed on December 13th on lampposts in the Village, Creekside and Meadow Park.
Each set of banners is on display for two seasons before being sold to the public, with the proceeds from sales contributing to future public art projects.
The RMOW will launch a call for applications for the summer 2022 banners next month. Whistler.ca/banners.
[ad_2]